Installation & Intervention
Through the Trees to the Mountains (iteration 2)


We completed installation a day early, yesterday. Really happy with how it turned out. The hanging of the fake green and blue lawn was the biggest pain in the butt of the whole event, other than that it tended to be mild repetitive activity, quite a bit of it but we got there in the end. Just in time for it's opening tmrw 4/20 - great show to see which or without enhancements! Also seems really great to be exhibiting for Earth day. Please visit my forest if you can - always open and right next to Gosankos chocolate shop on 1 East main, Auburn you've got until July 7th, 2019.
Through the Trees to the Mountains Art on Main the process of ideas …
In an effort to show my full vision and where this thought process has come from and is going please view my Keynote presentation: Through the trees to the Mountains
Through the Trees to the Mountains is iteration two of this series. Essentially I am just working towards creating a whole new world.
Work is in Progress right now for now these are the Mountains that will make up a roughly ten foot range when occupying the Art on Main Gallery.
Through the Trees to the Mountains, Running from 4.20.2019 to 7.7.2019
Art on Main 25 W Main Street , Auburn Wa 98001 Sponsored by the Auburn Arts Commission
These works sit in my fascination over the interplay of light and space that exists at the edge of the forest and the liminal effect on mind and emotion in this transition of spaces and sometimes time. The first presentation was a a part of The Storefronts Project (Shunpike) from November 2016-Jan 2017. These collages have been worked on since about 2010 but only in 2016 did they begin to join together and form a mass. The pieces vary in size from 1"x1" to 24"x24".
This is what I create in the space between larger more in depth pieces this is where I fascinate on the future art, where my weary mind practices its process to clear the artistic palate. These pieces are all made through a very methodic and repetitive process of collage and my husband Timothy Gee is as always an important participant in assisting the final presentation of the work.
Please also check out the wonderful folks at Shunpike and all that they provide and fund for our Art's community.
Through The Trees Iteration One- Presented as a part of Shunpike's Storefront's Project 2016
I build these images to express the edge of a forest. Contemplation and recreation of this literal or even spiritual edge provide us with a choice to move into something more historical, something larger then ourselves as humans or staying on the side
we have always played on, not choosing to enter. I am in love with this edge, possible predisposed as my name Thendara means edge of the forest in Iroquois. In my mind this space is a Narnian entry way, from one world of nature magic toother side of human civilization. This work fills the space between - becoming its own - the edge of the forest unto itself vs just a portal between two places where
one contemplates one own instinctive desires and allegiances to the human world or that of our original nature. Each individual image is reflective of a digital distortion artifact, a bigger picture splintered by poor reception or transmission. We have all experienced digital distortion albeit less so now than in the past. During the budding years of digital TV transmission we watched as the picture froze, glitches
spasmodically rip across the screen, entire blocks of the picture disappear and reappear out of time, out of step with the rest. We were then more aware of the separation of the digitized to the real, now the separation is less so, with leaps in virtual reality it makes me wonder if in future if humans will even care to discriminate between the two. The future brings choices, one will be how we care
to live, in nature? In data? In harmony with both? One day will the world in front of us break apart as can our own tv screen? 'Through the trees' has been created in the midst of other projects, this project is where I go to not think and amazingly the creative ideas seek me out, it is a place of comfort where I can do and generally be inspired without straining. My process has become a self-soothing moving meditation, photographs pieces are cut individually by hand each strip unique and the repetition furthering the meditative qualities of the process. It almost as if whilst depicting the edge of a forest, I'm straddling the magical and practical, not a bad place for an artist to be.
Bee Symphony 2013
A slowed down exploration of the sounds of Bees.
SoundPod D2000
A site Specific Sound Installation created for Heaven and Earth Five, Acclimatized, Carkeek Park, 2013
Welcome to the Soundpod D2000.
D because it's digital from beginning to end and 2000 because that once sounded like the future to someone born of the 1970's.
It is fashioned from an old school Copper toilet float, Victorian in styling with a fascinating organic nature. I fell in love with these objects two years ago whilst turning them into bird feeders for solstice gifts. Inside this little trinket of the past sits a vision of the future a sound card of the technology used in hi tech greeting cards of today, throwaway technology. I question this throwaway aspect and wish to find reuse.
Technology that once would make a man gasp and gawk now gets chucked in the rubbish.
As for the beauty of the copper toilet float, it has a beauty I don't see in my modern home.
I recognize the purpose of the copper float vs it's plastic doppelganger of today. Copper is antibacterial and withstands harsh conditions there was a point to getting a copper one in your loo, you would never need another, unlike it's plastic cousin who will likely require a replacement, perhaps several. And is that why everything is made from plastic now, so we will always need more? As the toilet float it regulated the flow of water now in the Soundpod D2000 it regulates the flow of sound.
Now these are interactive pods, they are equipped with infrared sensors and activated by you, or your dog. They work in day and night conditions and are well weatherized all powered by a single solar panel.
The point of the pods other then to explore reuse of disregarded objects was to attempt to neutralize some human noise.
These tracks are birds and bees of the areas in and around Seattle, who we digitally recorded since the spring began. We visited a fantastic Bee man named Paul and nightly went to a local woods til we caught the local barred owls on digital recorder.
We even mimic bird sounds ourselves and I dare you to tell the difference.
It's been a wonderful exploration of sound but seeking the quiet creatures only makes you realize how truly loud we are. There's always a plane flying overhead, or a motor of some sort, Sunday early mornings offered a bit of reprieve.
From now through to October the Soundpods can be found at "Acclimatized Heaven and Earth V" along with the work of 13 fantastic artists at Carkeek Park, Seattle, Wa.
The Soundpods live in a dead tree at the back of the orchard we hoped to reinvigorate this tree with life, one last shout.
Sponsored in part by Goal Zero.
Bee Love 2011
The plight of the bees is one such voice I would like to reinforce, as Einstein says "If the bee disappeared from the surface of the globe, then man would have only four years of life left. No more bees, no more pollination, no more plants, no more animals, no more man."
Our entire food chain is reliant on these little fellows and i wish to offer a little extra safe harbor.
How at odds are we with our fellow creatures of this earth? We could be living in harmonic symbiosis with them yet we are actually killing those who feed us, and allow for our entire existence.

With our highly developed brains one would think we would take more care in how we kept house. Those of us who are loud and make the most noise stomp over those who are quiet and if we look at this as survival of the fittest well when those fit survive will bees survive right along with them?
Is it survival to kill what and who provides you with food?
To look at the quieter voices that surround us from the shyest human down to the gentle hum of a bee we see there's variation and strength in diversity rather than complete encompassment of the moral majority.

We need to tread a little lighter and think twice about what it is we consume as well as release, before the world becomes inflamed with a bunch of belligerent shouters and at a loss of our quieter necessary friends.
Collage
Various Collage from many years of adhesives and scissors.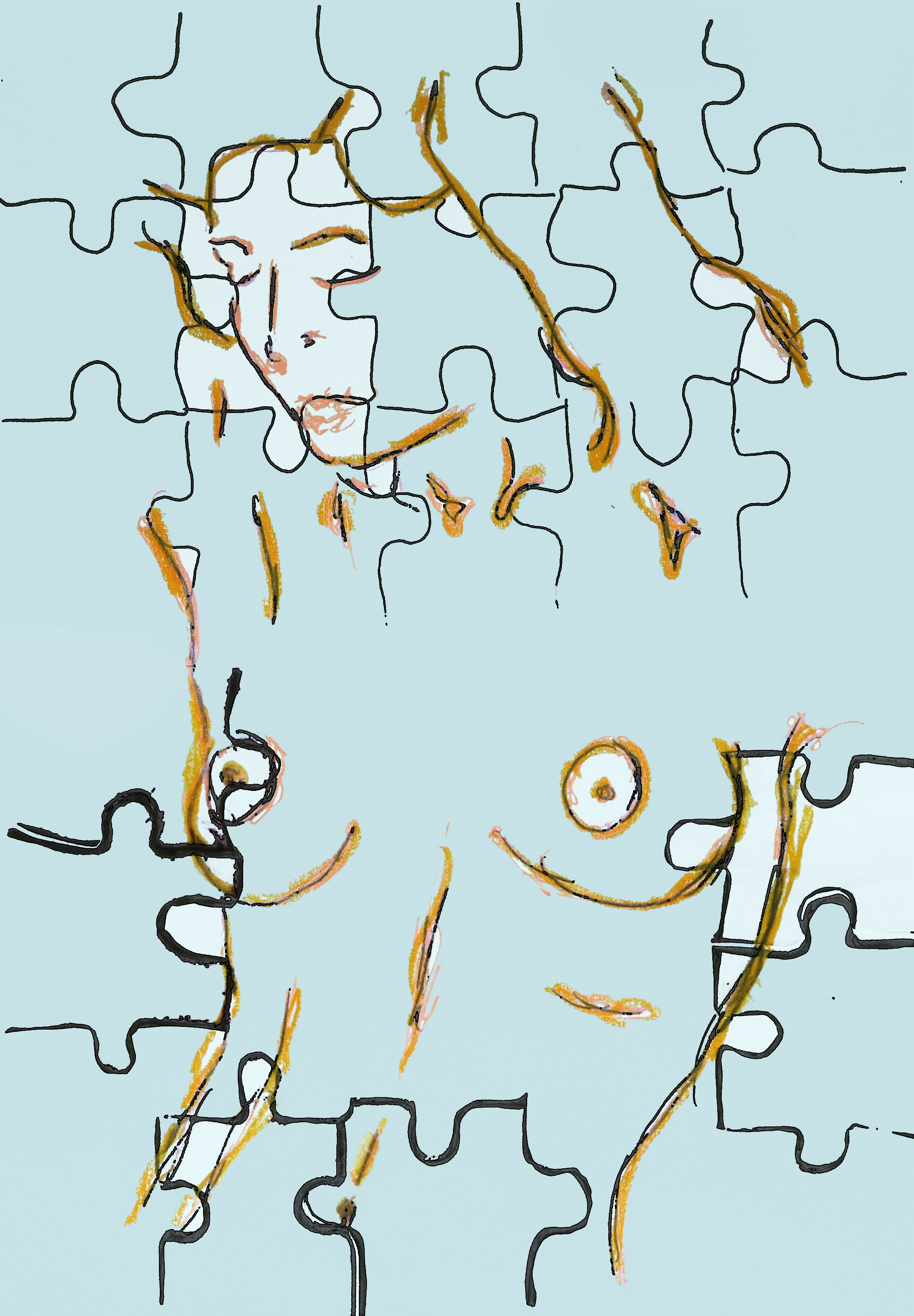 Noise Challenge 2013
Labspace Toronto brings you a collaborative and rather spontaneous worldwide project documenting noise with a series of weekly challenges. We are given a challenge and a week to respond in any way seen fit really, no holds barred. thank you Labspace x.
Pianist Said Quickly Sounds Like Penis 2003
The Jackass Penguin 2003
A sculptural Installation in an Erotic Book Shop as part of the Hay on Wye Literature Festival.
Nanobots 2001
Collaboration with sound artist Paul Manley